Stephanie Annie Pronk (Gaudette) & Johnathan Michael Pronk
I was a local girl here in Pembroke and Johnathan had just been recently posted to the Garrison Petawawa Military base (originally from Parksville, B.C.). We met on the Tinder dating app, simply browsing but unsure if we had been looking for a serious relationship. We matched, Johnathan messaged me first (something sweet of course!) and we had planned to get together for a few days and finally met (after I blew him off once lol!) and it honestly just felt like fate had fallen into both of our hands. We connected so quickly, as if we had known each other for years. From that day on, we hadn't spent a moment apart. One year, one month and a 7-month Overseas tour later, he came home and told me if I had waited for him all of this time, he'd ask me to marry him. On October 14th, 2018, he proposed to me at the Pembroke Marina Waterfront (where we had one of our first dates!). It was a wonderful surprise and a moment we will cherish forever!

–
Stephanie Pronk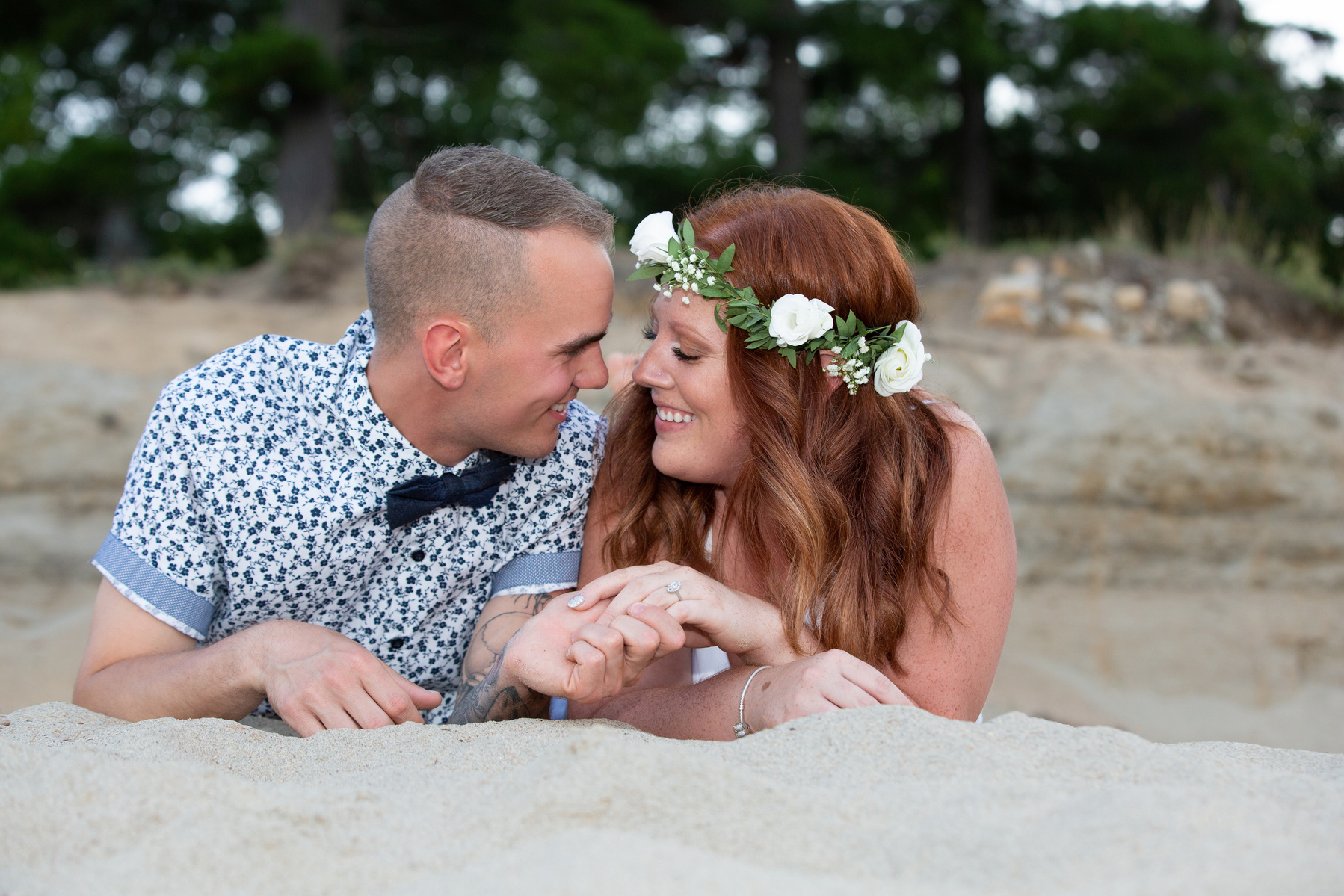 I can't tell you how much as a photographer I adore couples that are full of life, ready for adventure, and are comfortable with the camera. John & Steph are exactly that: full of life (and love!). There is so much love oozing from both of them, that you can't help but get caught up in their moments with them.
Beach sessions for Engagement photography have to be one of the most dreamy sessions to photograph. One of my faves…I was super stoked to meet John & Steph at a private beach late afternoon. Steph was all dolled up: makeup, a beautiful REAL FLOWER head crown, and beautiful sundress. John was dapper as always wearing his signature bowtie with casual beachwear. ONE WORD: STUNNING.
It is so important to plan ahead and to feel comfortable with your photographer. Discussing alternate dates in case of inclement weather, location options, wardrobe (including hair and makeup) and even time of day can make or break your Engagement Photography. Are you a natural in front of the camera? Do you wish all organic or do you appreciate some guided portraiture? Do you want your images all in colour, do you want a black and white session, or are you looking for a photographer who uses filters? Are you looking for heavy editing or do you want a photographer that can capture your best side through the use of styling, knowledge of light, and experience? Is your photographer experienced photographing couples and weddings? Does your photographer have professional equipment (and know how to use it?!). Is your photographer insured?
I have had the pleasure of photographing this couple and watching it grow. One of the best parts of my job is building long lasting relationships and new friendships. You will know when you just click with a couple. A couple will just know when they "click" with their photographer: feel at ease, have fun, confident in their ability as a photographer and have trust. PRO TIP: GIVE YOURSELF TIME! Engagement Sessions shouldn't be done during a mini-session. By the time you are warmed up, the session is over and you only have a handful of shots. A full session gives you time to feel comfortable, not rushed and gives the photographer lots of time to capture organic moments. To be inspired by you! (Yes, you should inspire the photographer!). `Seriously, when you are comfortable with your photographer, you won't even notice I am there…
Towards the end of a session I often take the time to let the couple know how much fun I have had ( I mean, really, how lucky am I?! Not only do I get to photograph a gorgeous couple, but I also get to play on the beach with them too, on a gorgeous summer evening.) and that I wish to photograph the main bling…the ring! (Yes, I am insured lol) This is an opportunity for the couple to relax, realize they are almost through the hardest part and to think about any other shots they were hoping for. I love when a couple has some ideas or props of their own…this is what makes your Engagement Session YOURS and uniquely you. (This is where planning, taking the time for hair and makeup, wardrobe changes, special locations…comes in. ) SKIP the PINTEREST (although I will be pinning this blog lol and it is great for inspiration, NOT to copy) LET'S GET PEOPLE PINNING YOUR IMAGES because they are so unique and beautifully yours. EEK! HOW EXCITING is that?
Any adventurous souls out there? Let's plan your next photography session together!
Hope to see you soon,
Shari-Anne, the Rustic Lens Photography & Design
xo